LUCKY DOG [BL game]
You can check the characters and his voices here
LUCKY DOG opening
The song is called "LUCKY DOG-Don't lose luck-", by SENTIVE and matsuNE (ALICE FROM JAPAN).
LUCKY DOG is a yaoi mafia story set in the 1930's, in the United States. You are a mafia leader, Gian Carlo, but you're in the prison. First you have to scape from prison, and later you have to turn back to your normal life inside the mafia.
SOME PHOTOS!!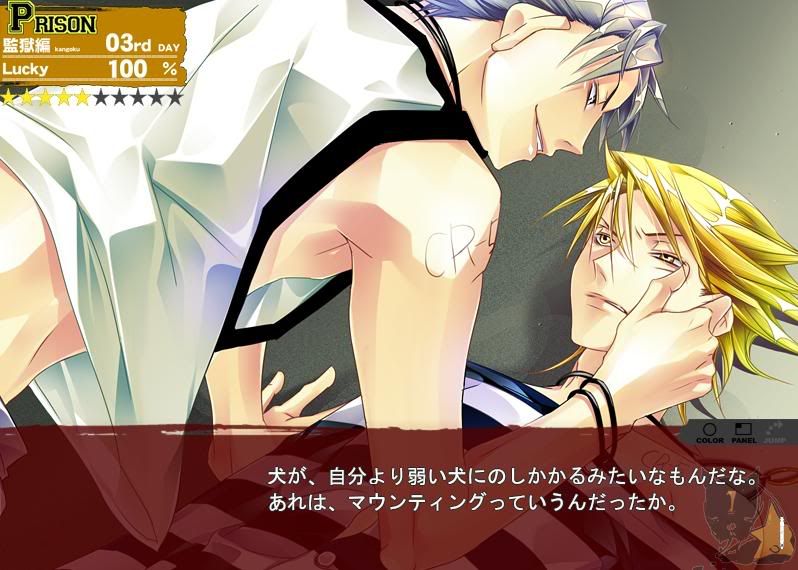 Photos from http://tnoj.sakura.ne.jp
http:///www.photobucket.com
inui-death.livejournal.com
Doesn't look interesting?? But there's a problem: it's only in Japanese. So, you should search the translated story in a website... or you can play and try to understand the game. You can download or buy the game, it isn't difficult to find. If you cannot find it, please send me a message by livejournal and I'll help you.
ABOUT LUCKY DOG
Tennenouji website
LUCKY DOG's website
A week ago I found a really interesting BL game called LUCKY DOG, by Tennenouji. Now I'm playing it, and god, I love it. It has really good graphics, a cool history and great characters. Seiyuus are exellent (beatiful voices, and screams are... so real!).